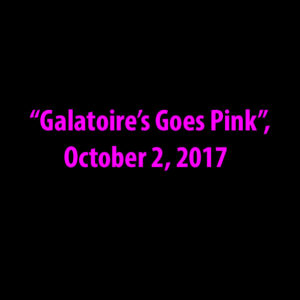 "Galatoire's Goes Pink"
Monday, October 2, 2017
Galatoire's Restaurant
301 Bourbon Street
6:00 PM
Ticket and Sponsorship Opportunities      Gillian Stagg Teale gstagg@nocci.com
Have you ever dreamed of attending a private party at Galatoire's?  What if you could take over the entire main dining room  for a sit-down dinner  on a Monday night when it is usually closed?  And, wouldn't  it be great if the Chef prepared his house specialties paired with fine wines just for your group? What if all of your favorite waiters could be  there? Why not have the Galatoire's Bar 33 open also so that you could indulge in a relaxing  pre-dinner cocktail of your choice?  What if everyone was wearing pink? And, what if it was all for a great cause?  Can you imagine a more perfect Monday night in New Orleans? 
Since its inception in 2011, Breastoration has assisted 105 women pay for 154 reconstructive breast procedures at 15 different surgical institutions in Louisiana. In addition, the organization has revived dormant legislation, which requires physicians to inform every woman diagnosed with breast cancer in Louisiana of all of her options before any medical or surgical treatment can begin.
We are working right now on legislation introduced in the 2016 session to close all loopholes in our laws which discourage or fail to provide coverage for each stage of medically necessary reconstructive procedures. Click here to watch the proceedings
Breastoration is a small organization which makes a huge impact in the lives of women facing the most difficult of all decisions following a breast cancer diagnosis.  Our resources are limited, and we have no staff dedicated to fundraising or event-planning. Each year, we have been fortunate to collaborate with the most generous of partners to raise as much money as we can to fulfill our mission. For every $5,000 we raise, we help one woman avoid life-long disfigurement and receive a specialized surgery she could not otherwise afford.  
We are honored to play a small part in championing a cause which creates an awareness of insurance coverage and surgical options for women diagnosed with or predisposed to breast cancer and helps women without insurance access the critical final step in their physical and emotional healing.
Please support our important work by becoming a sponsor of" Galatoire's Goes Pink".